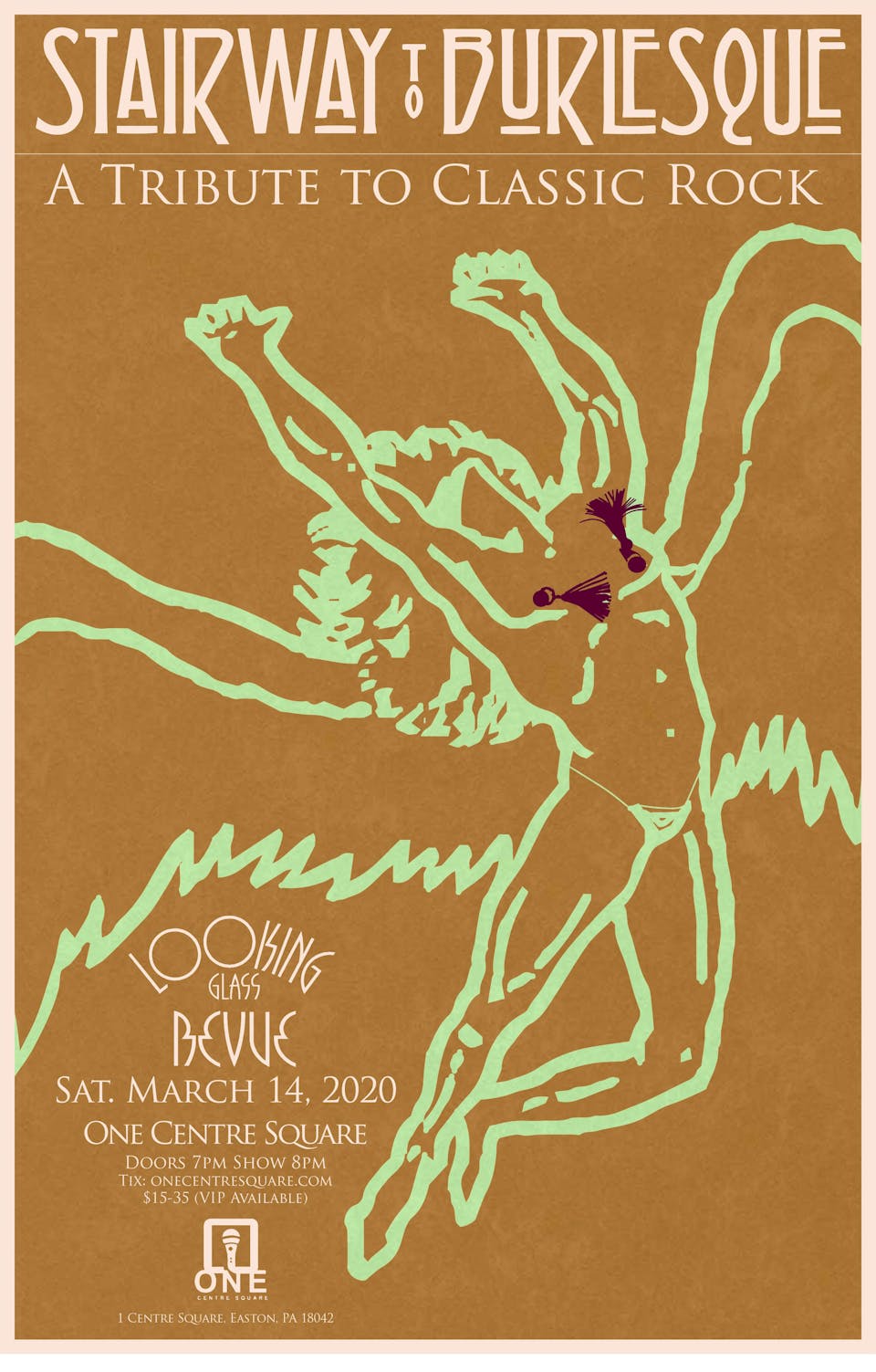 Presented by The Looking Glass Revue
Stairway to Burlesque - Tribute to Classic Rock
Stairway to Burlesque - Tribute to Classic Rock
The Looking Glass Revue presents:
Stairway to Burlesque - A Burlesque and Variety Tribute Show to Classic Rock
Doors 7PM /// Show 8PM
The Looking Glass Revue proudly presents one of their most popular Burlesque Experiences, Stairway to Burlesque, A Tribute to Classic Rock. Join the only professional and Premier Burlesque Troupe of the Lehigh Valley at One Centre Square in Easton Pa on Saturday, March 14, 2020 Showtime is 8pm.
The troupe will take you on a journey through the emergence of rock from the mid-1960's to the early 1980's, performing to the greatest hits that defined a musical genre that quickly evolved into the ultimate form of self-expression and rebellion. Charismatic front men and killer guitar riffs, Classic Rock produced some of the greatest songwriters and musicians of a generation! Get ready to throw your bras and flick those lighters, we are taking you for the ride a lifetime!
From The Doors to Queen to Van Halen, you will not want to miss this special show!
The Troupe boasts international award winning Burlesque Performers who have traversed the globe honing their craft while immersing themselves in all things vintage. Our Burlesque Experiences are created with high glamour performed by some of the most revered and coveted Burlesque Performers in the world. These delectable visions of loveliness are eager to tantalize with naughty bumps and grinds to set your heart ablaze. These performers are masters of the slow tease.
The Looking Glass Revue: Where Starlets Reign Supreme
Starring our resident cast of The Looking Glass Revue
Mika Romantic
Ruby Von Vanity
Harlow Wyntour
Miss V
Josh Schonewolf
The Hush-A-Bye Babes
Comedy by: Ben Fidler
Host and Emcee: Jayson Simpson